Costa NeoRiviera
With Costa neoRiviera you'll discover a new way to travel for connoisseurs: longer stopovers you can enjoy to the full, exclusive and unusual destinations, away from the usual routes, more intimate spaces, comfortable and personal, far from the crowds. Costa neoRiviera is inspired by the charm and atmosphere of the Italian Riviera, the Cote d'Azur and the Amalfi Coast. Be seduced by its new charm.
Maiden Voyage: 1999
Tonnage: 48,200 tons
Length: 709.00 feet
Avg Speed: 23.00
Passenger Capacity: 1,700
Normal Crew Size: 670
Registration Country: Italy
Cabin Features

Babysitting
Children Activities
Children Playroom
Hairdryer
Telephone
Television
24-Hour Room Service

Special Requests

Adjoining Cabins
Single Occpancy Cabins
Special Dietary Meals
Wheelchair Accessible Cabins

Fitness Facilities

Fitness Center
Jogging
1 Swimming Pools
1 Children Swimming Pools

Services

6 Bars
Beauty Salon
1 Casinos
2 Clubs
Chapel
Internet Access
Library
Movie Theatre
Shops
Showroom
Spa
Dining
Anacapri Bar
Saint Paul de Vence Lounge Bar
Saint Tropez Restaurant
Cetara Restaruant
Age Restrictions
On Board Baby-Sitting Caribbean:
Costa offers group baby-sitting for children age 3 (out of diapers) and older. The babysitting schedules can be found in the Daily Program distributed onboard (private in-stateroom babysitting is not available). There will also be two 'Parents Night Out' during the cruise where parents have the opportunity to enjoy the evening worry free while their children will be entertained with special activities, including their own buffet or pizza party. Best of all these special nights are offered at no extra charge.

Costa's In Port Children's Program
Caribbean:
Costa's In Port program offers children a variety of activities onboard to entertain them. Parents will receive information pertaining to scheduled activities at the beginning of the cruise. Ask about specially priced shore excursions for children 12 years and under.

Europe: Costa offers a comprehensive children's program throughout our Europe cruise season. The months of July and August are the most popular traveling times for families with children. Activities vary by ship and itinerary.

Minors Policy
Guests under the age of 21 must be accompanied by a parent or guardian. On selected seasonal departures, guests 21 to 24 years old must have one person at least 25 years old in the same stateroom.

Medical Care
There is a physician and nurse available 24 hours a day while at sea and during scheduled hours of the day while in port. All Costa ships are equipped with an infirmary. Professional services, care and medications are available at a reasonable cost. The medical staff can also provide medication to relieve any symptoms of seasickness. If you require prescription medications, bring an ample supply. Some prescription medications, might not be available onboard or ashore.
Tipping
Tipping is a personal matter, and your own judgment is the best guide. For your convenience, Costa will automatically debit your onboard account a modest service charge per person per day. Should you wish to change the amount, contact the Guest Relations Desk. Bartenders, servers, deck stewards and other staff may be tipped as service is received. For your convenience, a 15% gratuity is added to beverage purchases automatically.
Cruises departing from the United States: $12.50 per guest 15 years of age and older, per day of all cruise lengths.
World Cruises: 10 Euros per guest 15 years of age and older, per day for all cruiselengths.
Cruises not originating in the United States: 10 Euros per guest 15 years of age and older, per day for all cruise lengths.
Guests between the ages of 4 and 14 will be charged 50% of the above rates. There is no service charge for guests under the age of 4.
Inside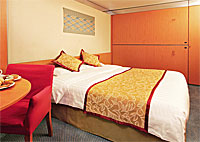 Category Code(s): IC,IP
Up to 140 sq feet
Two lower beds that convert to queen
Satellite TV
Air-conditioning
Mini bar
Safe
Hairdryer
Telephone
Oceanview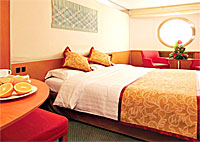 Category Code(s): EC,EP
Up to 140 sq feet
Two lower beds that convert to queen
Satellite TV
Window
Air-conditioning
Mini bar
Safe
Hairdryer
Telephone
Balcony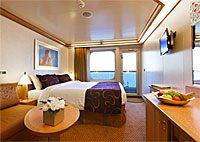 Category Code(s): BC
Up to 165 sq feet
Two lower beds that convert to queen
Balcony
Satellite TV
Air-conditioning
Mini bar
Safe
Hairdryer
Telephone
MiniSuite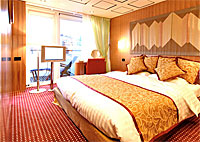 Category Code(s): MS
Two lower beds that convert to queen
Satellite TV
Balcony
Air-conditioning
Mini bar
Safe
Hairdryer
Telephone
Suite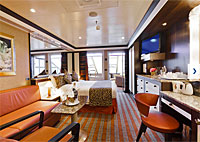 Category Code(s): GS,PS,S
Up to 452 sq feet
Two lower beds that convert to queen
Satellite TV
Balcony
Air-conditioning
Mini bar
Safe
Hairdryer
Telephone
Dining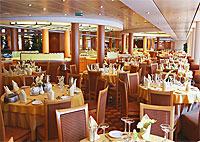 Restaurant and Bar
3 restaurants including a buffet Grill & Pizzeria and 6 bars
Night Life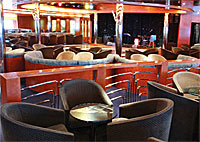 Entertainment
Theatre; Casino; Disco; Internet Point; Card Room; Library; Shops; Photo Gallery; Squok Club
Sports and Fitness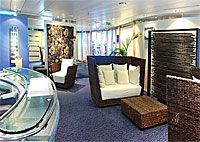 Wellness and Sports
Wellness centre with gym, treatment rooms, sauna and steam room; 1 Pool; 2 Whirlpools