MS Midnatsol
MS Midnatsol has a strong environmental profile and a modern design. The interior's bright, colourful décor is inspired by the warm sunny climate, a motif also reflected in the many pieces of Norwegian modern art on display. She is also a TV star, being featured in the award winning documentary "Hurtigruten 365", made by Norwegian TV. Key qualities of the MS Midnatsol include the large, two-story panorama lounge above the bow, and the large glass expanses that allow natural light to enter, while providing extraordinary views.
Norway

Registration Country
Tonnage: 16,151 tons
Length: 445.00 feet
Avg Speed: 15.00
Passenger Capacity: 1,000
Normal Crew Size: 333
Registration Country: Norway
Cabin Features

Children Playroom
Telephone
Television

Special Requests

Special Dietary Meals
Wheelchair Accessible Cabins

Fitness Facilities

Services

4 Bars
Hottub
Internet Access
Library
Movie Theatre
Shops
Dining
Any special requests such as vegetarian, diabetic, or gluten free should be noted at time of booking and contact the head waiter about their special request when on board. Hurtigruten does its best to accommodate such requests. All voyages include buffet breakfast, lunch, and dinner. Dinner varies between buffets, set meals, and barbeques, and is announced in the daily program on board. Information about seating assignments will be available in the cabin upon arrival. Special requests for seating arrangements should be noted at time of booking. Beer, wine, and soft drinks are not included during the day and may be purchased in the restaurant, cafeteria, and bar. Complimentary sparkling and still water are available for all meals on board MS Midnatsol.
Age Restrictions
Children under the age of 5 are not permitted to travel to Antarctica. There is no age restriction on other destinations. For safety reasons, it is at the captain's discretion for children under the age of 12 to participate in shore landings.
Tipping
It is not common practice to tip on Hurtigruten ships on the coastal voyage, but if you feel that crew members should be rewarded for providing exceptional service, tip boxes and envelopes are available in the restaurant.
Inside
Category Code(s): I
98 - 153 sq. ft.
One bed
One sofa bed
TV
Shower/toilet
Oceanview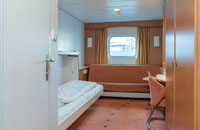 Category Code(s): J
123 sq. ft.
One bed
One sofa bed
TV
Shower/toilet
Limited no view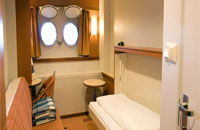 Category Code(s): L
108 - 132 sq. ft.
One bed
One sofa bed
TV
Shower/toilet
Portholes
Limited/no view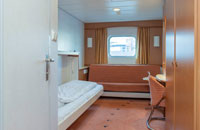 Category Code(s): N
118 - 136 sq. ft.
One bed
One sofa bed
TV
Shower/toilet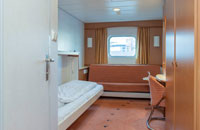 Category Code(s): O
109 - 124 sq. ft.
One bed
One sofa bed
TV
Shower/toilet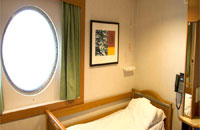 Category Code(s): P
111 - 118 sq. ft.
One bed
One sofa bed
Table
Kettle
TV
Shower/toilet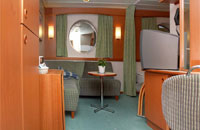 Category Code(s): QJ
174 sq. ft.
One bed
One sofa bed
Seating area
Kettle
TV
Shower/toilet
Limited/no view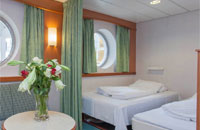 Category Code(s): U
112 - 149 sq. ft.
One bed
One sofa bed
Table
Kettle
TV
Shower/toilet
703, 704, 705, 706 with double bed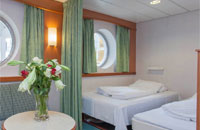 Category Code(s): YA
172 sq. ft.
One bed
One sofa bed
Table
Kettle
TV
Shower/toilet
Accessible to guest with limited mobility
MiniSuite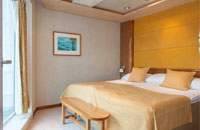 Category Code(s): Q
172 - 252 sq. ft.
One room with a double bed
Seating area
TV
Internet access
Mini bar
Kettle
Shower/toilet
Suite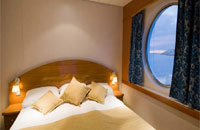 Category Code(s): M
252 sq. ft.
One room with private balcony
Seating area
TV
Mini bar
Kettle
Shower/toilet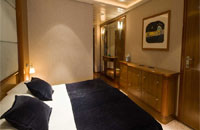 Category Code(s): MG
276 - 381 sq. ft.
One room with private balcony or bay window
Double bed
Seating area
TV
Mini bar
Kettle
Stereo
Toilet/shower, some with bathtubs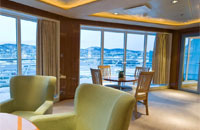 Category Code(s): MX
478 sq. ft.
Two rooms with private balcony
Double bed
Seating area
Dining Table
TV
Kettle
Stereo
Internet access
Mini bar
Toilet/shower, some with bathtubs