MSC Armonia
The MSC Armonia is majestic in stature yet intimate and welcoming onboard. The ambiance on board is refined and casually elegant with the Italian sense of style that is a hallmark of MSC Cruises. With a high space and service ratio, guest comfort is preeminent. MSC Armonia offers a large number of luxurious suites with private balconies and all the features guests enjoy on a contemporary cruise including outdoor pools, spa, and salon.
Maiden Voyage: 2001
Tonnage: 65,542 tons
Length: 902.00 feet
Avg Speed: 20.10
Passenger Capacity: 2,679
Normal Crew Size: 721
Registration Country: Panama
Cabin Features

Babysitting
Children Activities
Children Playroom
Hairdryer
Telephone
Television
24-Hour Room Service
Youth Program

Special Requests

Special Dietary Meals
Wheelchair Accessible Cabins

Fitness Facilities

Basketball Court
Fitness Center
Golf Course
Golf Simulator
Jogging
2 Swimming Pools
1 Children Swimming Pools
Tennis Court

Services

8 Bars
Beauty Salon
1 Casinos
1 Clubs
Dry Cleaning
Hottub
Internet Access
Library
Self Laundry
Shops
Showroom
Spa
Dining
La Pergola Restaurant
Marco Polo Restaurant
II Girasole Restaurant
La Brasserie Cafeteria
San Marco Cafe
The Pizzeria
NOTE:To allow MSC offer the best possible service, they ask passengers to be on time for all meals. Restaurant meals are not available in your cabins except for the breakfast and in case of illness. Generally, doors to the restaurants close 15 minutes after the dining seating begins. Children dine at their parents table in the restaurants.

DRESS CODES:
Dress standard in the restaurant allow casual dress for breakfast and lunch (but never swimmer, bare feet or raggy jeans etc.). Smart casual wear is required for the evenings, and men are usually asked to wear a jacket and tie. There are usually two (sometimes three) gala nights on each cruise, on these nights ladies should wear cocktail or evening dresses, while men will not be out of place in a tuxedo or dinner jacket. The dress of the day, as decided by the Captain, is published in the Daily Program each day. Advice will simply be 'casual', 'informal', 'formal' or special 'theme' dress may also be suggested for special nights.

Formal: Tuxedo, dinner jacket or lounge suit, for gentlemen. Evening or cocktail dress for ladies.
Informal:Jacket and tie for gentlemen. cocktail dress for ladies.
Casual: Open neck shirt, without jacket or in keeping with the theme of the evening if indicated, for gentlemen; skirts, dresses, slacks and sweaters or blouses for ladies.

Lightweight, loose-fitting clothing is ideal for daytime usage. Neat casual wear is requested after 6:00 pm.
Age Restrictions
No guest under the age of twenty-one (21) will be booked in a stateroom unless accompanied by an adult twenty-one (21) years of age, or older. This age limit will be waived for minor children sailing with their parents or guardians in adjacent staterooms. In the interest of safety, parents are asked to refrain their children from roaming the ship unaccompanied. Children dine with their parents in the restaurant and may use the pool under adult supervision.
DISCO
Unless with an adult, entry to the disco is restricted to passengers under 21, and proof of age may be required.
The Cruise Staff arrange teen-only dance parties in the disco at times advertised in the Daily Program.
CASINO
Passengers under the age of 21 are not permitted in the casino, which is closed in ports.
FITNESS CENTER / GYMNASIUM
Passengers under 14 years are not permitted to use the gymnasium unless accompanied by a parent. Use of all gym equipment is at your own risk
POOL
Children under 6 years are not permitted to use the adult pool at any time, and between the ages of 6 and 11 only under adult supervision.
Children in diapers are not permitted in any pools at any time.
MINI CLUB
Children's entertainment will be organized, according to the age, into three different age categories.
Mini Club, for children from 3 to 9 years;
Junior Club for children from 10 to 13 years;
Teenagers Club for passengers over 14 years.
An adult or parent must supervise children under the age of three at all times. Please note that facilities vary by ship.
Tipping
At the end of the cruise it is international custom to pay service charges to restaurant and cabin staff in recognition of good service. Passengers will receive written communication regarding this in their cabin. For your convenience and as an indicative suggestion we have arranged for an all inclusive daily service charge of 6 Euros per adult and 3 Euros per child (4-17 years) for cruises in the Mediterranean and Northern Europe; 12 US dollars per adult and 6 US dollars per child for cruises in the Caribbean and North America; 6 US dollars per adult and 3 dollars per child for cruises in Brazil and Argentina (including Ocean Cruises); 5 US dollars per adult and 2,50 US dollars per child for cruises in South Africa. This sign of appreciation, valid on all ships in the MSC Cruises fleet is of course optional. Therefore, passengers may freely decide whether to increase or decrease it, communicating their decision to the Accounting Office before 22.00 of the last day. This Office is at your disposal for further information. For your convenience, should you give no indication to change the amount; the sum will automatically be debited to your final extras account.
Inside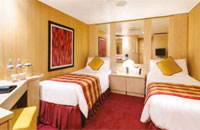 Category Code(s): I1,I2,IW
On decks 7, 8, 9, and 10
Approximately 140 sq ft
Double bed that can be converted to two single beds (on request), except staterooms for guests with disabilities or reduced mobility
Spacious wardrobe
Bathroom with shower
Interactive TV
Telephone
Mini bar
Safe
Air conditioning
Wheelchair accessible cabins are 226 sq ft
Oceanview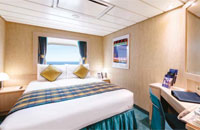 Category Code(s): O1,O2,OW
On decks 7, 8, 9, and 10
Approximately 140 sq ft
Picture window. Some cabins may have obstructed view
Double bed that can be converted to two single beds (on request)
Spacious wardrobe
Bathroom with shower
TV
Telephone
Mini bar
Safe
Air conditioning
Balcony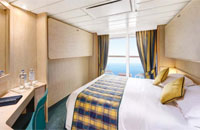 Category Code(s): B2,BW
On decks 9 and 10
Approximately 161 to 172 sq. ft.
Double bed that can be converted into two single beds (on request)
Spacious wardrobe
Bathroom with shower
Interactive TV
Telephone
Mini bar
Safe
Air conditioning
Suite
Category Code(s): S2,S3
On decks 10 and 12
Approximately 290 sq. ft.
Private balcony
Double bed that can be converted into two single beds (on request)
Spacious wardrobe
Bathroom with tub
TV
Telephone
Availability of internet connection by your own laptop
Mini bar
Safe
Air conditioning
Dining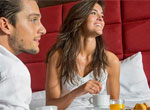 24 Hour Room Service
24/7 room service bringing you everything from full meals to whichever combination of appetizers, soups, sandwiches, salads, desserts, fruit, cheese and snacks you prefer. Start the day with the treat of a leisurely breakfast in bed!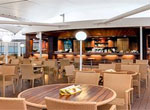 Il Girasole
Enjoy mediterranean dishes and dine al fresco at Il Girasole, MSC's outside buffet restaurant.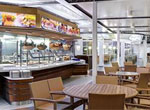 La Brasserie
From breakfast in the morning to the midnight buffet, there are several dining options available on board. Enjoy a casual outdoor lunch by the pool from the grill or pizzeria and sample a variety of snacks during the afternoon and evening.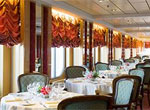 La Pergola Restaurant
During MSC's renowned seven-course dinner menu, experience the zest of flavors and gaiety of colors from an authentic Mediterranean cuisine such as garlic, olives, basil, red pepper and tomatoes in MSC traditional family recipes.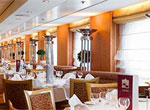 Marco Polo Restaurant
During MSC's renowned seven-course dinner menu, experience the zest of flavors and gaiety of colors from an authentic Mediterranean cuisine such as garlic, olives, basil, red pepper and tomatoes in MSC traditional family recipes.
Spa and Beauty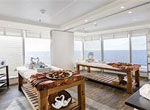 Armonia Spa
Relax and pamper yourself at the Armonia Spa. The spa offers specialized treatments targeted for various purposes including anti-wrinkle facial treatments, firming and exfoliating all-over body treatments and several types of massage incorporating shiatsu, reflexology and sports therapy.
Onboard Activities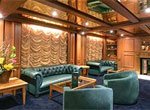 Cigar Room
A cigar is much more than meets the eye. It's a uniquely opulent experience, savoured slowly, that involves all the senses in incomparable intensity.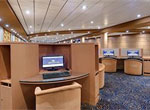 Internet Cafe
Stay up to date with the news, catch up with your friends through email or social media, or just browse the web at the Internet Cafe.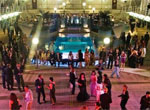 Live Bands and Themed Nights
There's always so much going on onboard, the hardest part is deciding what to do. Get your groove on with live music. Plus, don't miss out on MSC theme nights and onboard parties!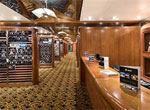 Photo Gallery
Get your photograph taken and choose from a variety of gorgeous prints. Perfect for those who want to frame memories of their vacation!

Special Occasions
If you're celebrating a special occasion such as a birthday, retirement, honeymoon or anniversary, do it with classic operatic drama: a cake, some bubbly and an Italian serenade.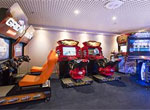 Video Arcade
Enjoy high-tech gaming attractions on board like Virtual World, F1 simulator and other video arcade games onboard.
Casino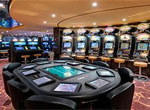 Casino
It's time for Vegas. MSC will keep your glass filled as you test your luck with poker, roulette or blackjack in the casino.
Night Life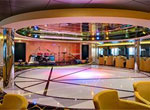 Armonia Lounge
The lounges have bands playing music for all tastes from pianists and string quartets to pop, rock and oldies.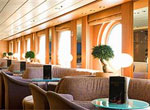 Bar del Duomo
Bar del Duomo is an ideal spot to join friends for an aperitif or enjoy a refreshing drink at any time of day.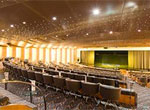 La Fenice Theater
Many of MSC nightly shows have an accent of the Mediterranean Flamenco dancers from Spain or historical glances back to Old Europe.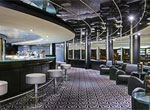 Starlight Disco
Not sleepy? Well make your way to the club where you can dance the night away.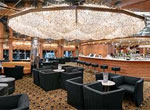 The Red Piano Bar
Relax and enjoy the piano while you drink your favorite drink at The Red Piano Bar.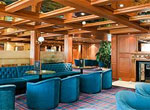 The White Lion Pub
After dinner, let MSC Cruises entertain you while you taste a exquisite drink at The White Lion Pub.
Sports and Fitness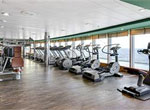 Gym
Stay in shape at the gym. You can admire the panorama, burn off the calories and keep in shape. Whether you prefer to train alone, love a workout in company or live to compete, you'll find just what you need.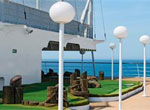 Sport Center
Stroll around the deck or run on the jogging track. Work out at the gym or try out one of the aerobic and step classes offered on board. You can also, play a game of tennis or volleyball.
Pools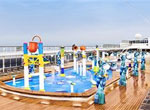 Doremi Spray Park
The Doremi Spray Park is the perfect pool area for kids to cool off and enjoy themselves.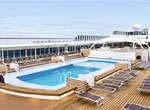 Swimming Pool
Refresh yourself by swimming some laps or lounge under sun at the pool.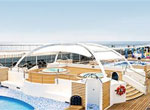 Whirlpool
Get a nice tan under the sun while relaxing in one of the two whirlpools on the MSC Armonia.
Hygiene and Safety Protocols
MSC has historically maintained high hygiene standards on all their ships, with rigorous cleaning and sanitisation prior, throughout and at the end of each cruise. We have further enhanced these procedures both with respect to public spaces as well as guest cabins and crew accommodations.
High traffic areas on ships are frequently sanitised with thorough cleansing and using a hospital-grade disinfectant. Key areas, which include public venues and toilets, are sanitised hourly and undergo a fogging process at night.
Guest cabins are cleaned twice a day. Once in the morning with thorough cleansing and wiping using a hospital-grade disinfectant and a further second cleaning for the most exposed surfaces, including telephones and remote controls, in the afternoon.
One of the best ways to stay healthy is to keep your hands clean. Handwashing stations and hand sanitisers are widely available around the ship. MSC has increased the availability of hand sanitiser stations and enforce hand cleansing at all onboard food and other venues.
MEDICAL CARE
All MSC Cruises' ships are equipped with a well-resourced Medical Centre that is supervised by the ship's doctor and other medical personnel and which provides a range of medical services for everyone on board.
MSC's medical staff are fully qualified and experienced medical professionals who all follow World Health Organization COVID-19 Recommendations for Healthcare Providers, as well as the recommendations of various health authorities.
Guests who suffer from flu-like symptoms are obliged to stay in their cabin and should contact the onboard Medical Centre as soon as possible. MSC's professional medical team will take care of them there and follow a clear protocol.
FOOD HYGIENE PRACTICES STANDARDS
Guests should wash their hands before entering any of the onboard food venues. There are handwashing stations and sanitiser at the entrance and exit points, with dedicated personnel to ensure that as guests utilize them.
ENTERTAINMENT RECREATIONAL ACTIVITIES
There is frequent cleaning and disinfection of all recreational equipment, toys, games and Kids' Club facilities (after every use), plus frequent open deck sanitisation of outdoor furniture, sports equipment, pool and aquaparks.
Spa and gym facilities are sanitised after every use.
CREW MEMBERS PRACTICES STANDARDS
MSC ensures that all crew members follow strict health and safety preventive measures.
Crew members undergo a daily health check by the medical staff, and if any symptoms, they are not allowed to have any interactions with Guests.
Crew members follow proper hand washing practices before, during, and after work duty, and wear protective garments, if required.
7 Night Caribbean
4.2/5 - Very Good
Service was very good, food was good, shows need some production value but entertainers were very good.