Royal Clipper
Inspired by the tall ship Preussen, the Royal Clipper has the proud distinction of being the largest and only five-masted full-rigged sailing ship built since her predecessor was launched at the beginning of the last century. With her complement of 42 sails, Royal Clipper is a splendid sight to behold.
Luxembourg

Registration Country
Maiden Voyage: 2000
Tonnage: 5,000 tons
Length: 439.00 feet
Passenger Capacity: 227
Normal Crew Size: 106
Registration Country: Luxembourg
Cabin Features

Hairdryer
Telephone
Television
24-Hour Room Service

Special Requests

Fitness Facilities

Services

3 Bars
Dry Cleaning
Internet Access
Library
Shops
Spa
Dining
Star Clipper's inspired chefs make dining aboard a delightful culinary adventure with an international menu of foods from the far corners of the earth. When you rise, help yourself to a continental breakfast with Parisian croissants, toasted English muffins or sweet Danish pastries, or savor a full breakfast with fresh tropical fruits and crisp bacon, grilled sausage, smoked salmon and omelets cooked to order in the dining room.

When evening comes, their elegantly appointed dining room becomes the setting for the chef's finest culinary presentations, designed to please the eye and the palate, complimented by a selection of equally fine wines. You'll find the service to be friendly and gracious, as befits a tasteful restaurant. Of course, Star Clippers would not presume to dictate your seating preferences. On all three ships, you are free to dine when and with whomever you wish, including their officers, who join the guests in the dining room most nights.

The dress code: No need for formal gowns and black tie, casual elegance is the order of the day and every single night. At lunch, a marvelous buffet of seafood, salads and grilled favorites awaits your pleasure. If the day includes a stop at one of the paradisaical islands we frequent, you might also be treated to a succulent outdoor barbecue on shore.
Age Restrictions
Children are welcome on Star Clippers. While there is no structured program providing supervision and care for young children, they are invited to participate in shipboard activities suited to their ability. Children under the age of 18 must be accompanied by an adult.
Tipping
Gratuities on board the ship are not included in "Just Cruising Rates" and are at the sole discretion of each guest based on the level of services performed. However, we are often asked by our guests for guidance regarding gratuities, and we suggest gratuities of 8 euros per guest per day.
Inside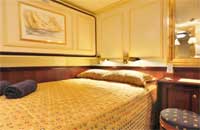 Category Code(s): 06
On Clipper Deck
Approximately 107 sq. ft.
Private marble bathroom with shower
Fixed double bed
Hair dyer
Private safe
Television
DVD player
Telephone
Oceanview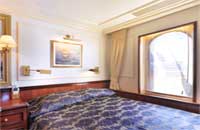 Category Code(s): 01
On Main Deck
Approximately 204 sq. ft.
Ocean view window
Double bed
Minibar
Private marble bathroom with whirlpool bath
Cabin doors open onto deck
Hair dyer
Private safe
Television
DVD player
Telephone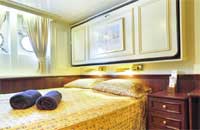 Category Code(s): 02,03,04
On Clipper and Commodore Deck
Approximately 150 sq. ft.
Private marble bathroom with shower
Two lower beds convert to double bed
Two porthole windows
Hair dyer
Private safe
Television
DVD player
Telephone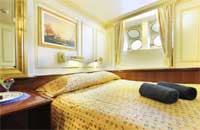 Category Code(s): 05
On Commodore Deck
Approximately 118 sq. ft.
Private marble bathroom with shower
Fixed double bed
Two porthole windows
Hair dyer
Private safe
Television
DVD player
Telephone
Suite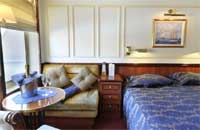 Category Code(s): DS
On Main Deck
Approximately 215 sq. ft. with 30 sq. ft. verandah
Private verandah
Two lower beds convert to double bed
Sitting area
Mini bar
Marble bathroom with whirpool
Room service
Hair dyer
Private safe
Television
DVD player
Telephone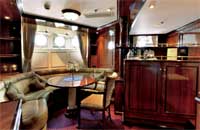 Category Code(s): OS
On Clipper Deck
Approximately 355 sq. ft.
Multiple porthole windows
Two lower beds convert to double bed
Sitting area
Mini bar
Marble bathroom with whirpool
Room service
Hair dyer
Private safe
Television
DVD player
Telephone
Onboard Activities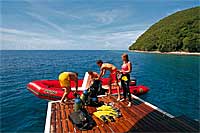 Onboard Activities
A windsurfer traces a zig-zag wake over dancing wave tops. A snorkeler floats over a garden blooming with purple and rose coral. A diver plays tag with a school of clown fish darting in and out of an underwater wreck.On Star Clippers, the day proceeds at your own pace, whatever that may be.Indeed, the very notion of a rigid agenda of activities is foreign to our cruises. Join the Captain on the always-open bridge as he plots the course for the next landfall. Learn how to splice a line, reef a sail or tie a square knot. Cool off with a dip in one of the pools, or unwind with a cool drink and your favorite song in the piano bar. Discover history and fascinating cultures on exciting shore excursions in our exotic ports.

If it's a beach day, you can swim, windsurf, water-ski, sail a Sunfish, ride a banana boat or explore in a Zodiac. Our sports staff will be happy to offer assistance, should you require it.On Royal Clipper, a unique marina platform lowers to sea level, giving you instant access to water sports activities. We'll take you to remote reefs, underwater wrecks and blue lagoons where marine species are in abundance. You can be confident that your environmentally friendly sailing ship will leave the world's pristine places as clean and unpolluted as when it arrived. Whether you elect to glide among the emerald-clad jewels of the Caribbean, enjoy the incomparable adventure of an epic ocean crossing, be beguiled by the ancient, sun-warmed ports of the Mediterranean or be intrigued by the mysteries of the Far East and Central America, each and every voyage aboard Star Clippers will be a little bit different from the one before and/or after